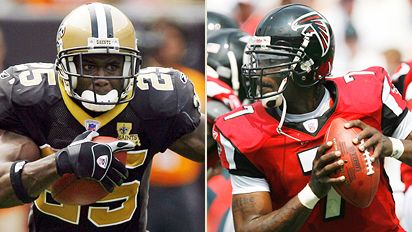 So, tonight the Saints are on Monday Night Football, and it's a national story. I'm extremely excited about tonight's game, and believe it or not, this will be the first time I've watched the Saints all season long. For one reason or another, I haven't been able to watch them play so far, but I will tonight.

This game is going to be huge [just ask U2 or Green Day], and on top of everything else, we're playing the Dirty Birds. I have hated many teams and players as a Saints fan, and the Falcons and Michael Vick come in at about #2, so this game will be especially emotional for me.

If anyone wants to join me, I'm going to go somewhere to watch the game, even if it's with strangers. Just call me on my cell... and if you don't have my cell, email me. If you can't figure out how to email me, turn in your license to own a computer.